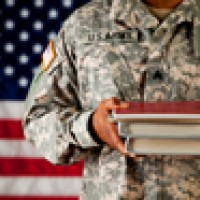 Make the Most of Your Military Education Benefits
A college degree is important for both your Military career and your transition to civil life afterwards.  And with the many Military Education Benefits available, money shouldn't be the problem when it comes to earning your degree.  But let's face it, Military lifestyle isn't the most flexible.  You don't exactly have the time to sit in a classroom for 3 nights a week, plus homework, projects, and tests.  And that's where the College-Level Examination Program, or CLEP Test for short,  comes in.  It allows active duty Military to earn college credit towards their degree without ever having to step foot in classroom!
How-To Earn College Credit with CLEP Tests

What is the CLEP? Basically the CLEP is an easy way to earn college credit through testing instead of the traditional 16-weeks of tedious classroom work. In 90 minutes or less you can earn 3-12 credits towards your college degree.  Each exam is usually equivalent to one or two brick-and-mortar undergraduate classes.  Of course… without all the homework, projects, and tests!
CLEP offers over 33 introductory exams across all basic levels of college courses and are accepted at over 2,900 schools.  So regardless of what college you attend or what class you want to test out of, CLEP exams offer the most flexibility for active duty Military to earn a college degree.
Why should you take the CLEP? Well you have already been trained in many basic areas during your service in the military. So why not use that education you have already been given and help alleviate the need to take the basic college courses? You could shave off valuable time by testing out of the basic subjects. As well you will not be bored with material you already know and understand.
Plus, most active duty Military spouses and dependents are NOT eligible for the free CLEP Exam. But don't worry.  CLEP Tests are much cheaper than traditional college classes.  So beyond saving you time on your degree, you would save your family stress on the wallet.
How-To Take the CLEP Exam for FREE
CLEP exams are FREE to all active-duty military and reserve military personnel, regardless of branch, through the DANTES (Defense Activity for Non-Traditional Education Support) fund.  Military veterans can seek reimbursement through the Department of Veteran Affair Benefits.
Specifically, the DANTES program will pay for the CLEP registration fee for current members of the Army, Navy, Air Force, Marine Corps, Coast Guard, Army Reserve, Air Force Reserve, Marine Corps Reserve, Navy Reserve, Coast Guard Reserve, Army National Guard, and Air National Guard. In addition, some civilian employees and spouses of military personnel may also qualify.
Click Here to view the complete DANTES Fund Eligibility Chart.
To register for the CLEP contact your Educational Services Officer or Navy College Education Specialist, or visit the DANTES Web site at: www.dantes.doded.mil.
Important, if you do NOT register for your CLEP Tests at a Military Base Test Center or a DANTES Education Centers, you ARE responsible for the nonrefundable administration exam fee collected by the test centers (usually between $20-50 per exam), however the exam fee is still waived for eligibility military.
Note: Effective December 11, 2010, DANTES NO longer funds CLEP retesting. However, you can personally pay for a retest after 6-months, which is the normal wait time for retesting.
Where to Find the FREE Peterson's
CLEP Practice Tests for Military
After you register for the CLEP at your Education Center, ask to see what free CLEP Practice Tests and Resources they have available.  Because the next step is STUDYING! Consider taking the CLEP like any final exam, if you pass the test, you pass the class, and earn college credit towards your degree.   So it's always better to study and be prepared.
One great resource is the Peterson's CLEP Practice Test.  While it is not the same exam you will have on test day, it is a great assessment of your readiness for the CLEP Exam.  And as a special thank you for your military service, Peterson's offer FREE CLEP Practice Tests to military members and their families.
Click here to access the FREE Peterson's CLEP Practice Tests.
Best Military CLEP Study Guides
Military life is very demanding.  That's why the CLEP is a great option to active duty Military, so your degree doesn't get in the way of your duty to serve. By taking the CLEP tests you can cut the time needed for your education by a full year or more.  Which can help further your Military career or transition back to civilian life.
As active duty Military you already have a lot of great CLEP study material available to you to help prepare and pass the CLEP exam.  But if you're looking for supplemental resources or something condensed to help you study smarter and faster I would recommend you check out InstantCert Academy.  Click here to read my InstantCert CLEP Review.
And on behalf of everyone at MyPracticeTests.com, thank you for your military service!
Madison S.
Tags: CLEP, Military, Peterson's